WordPress was recently upgraded to version 5.0.3 on blog.ryerson.ca. With this upgrade came a new editor for posts and pages, known as 'Gutenberg'.
Since August, blog administrators have been able to activate a Gutenberg plugin for their blog, to give them a preview of what was coming.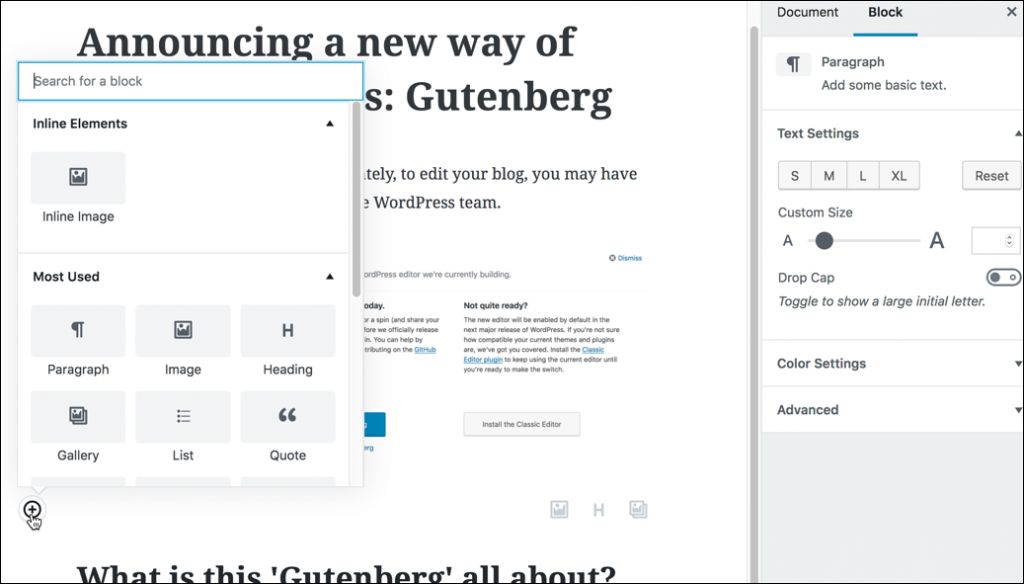 In this post, we will cover some of the Gutenberg basics, and let you know how this change may impact your blog.
---
What is 'Gutenberg' all about?
'Gutenberg' is the name of the new visual editor for WordPress posts and pages.
The 'Classic' WordPress post editor – the one we have been using to create posts in WordPress for many years – is built around a single text box. This text editor is similar to those found in word processing software, enabling the author to enter text, embed images, links and multimedia. It's easy to author a basic text-based post, but more difficult to customize the look and structure if you aren't familiar with HTML (the code used to build web pages).
From here on, we will use the terms Gutenberg and Classic Editor to differentiate between the two types of content editors.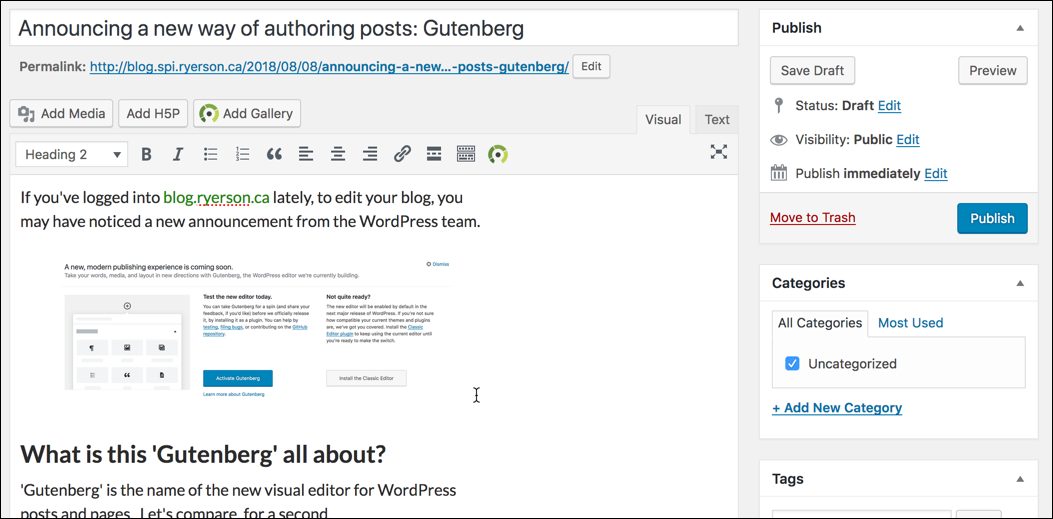 The new 'Gutenberg' post editor works a bit differently, and treats different pieces of your post as separate content 'blocks'. There are blocks dedicated to creating headings, inserting images, bulleted lists – and more block types will be designed to help you author pages that are visually interesting and more accessible.
This represents a bit of a learning curve for many of us, but can make it possible for those of us who don't know HTML to make creative posts that look great.
Please keep in mind that this is a very new tool, and there are some features yet to evolve fully, and some bugs to be worked out.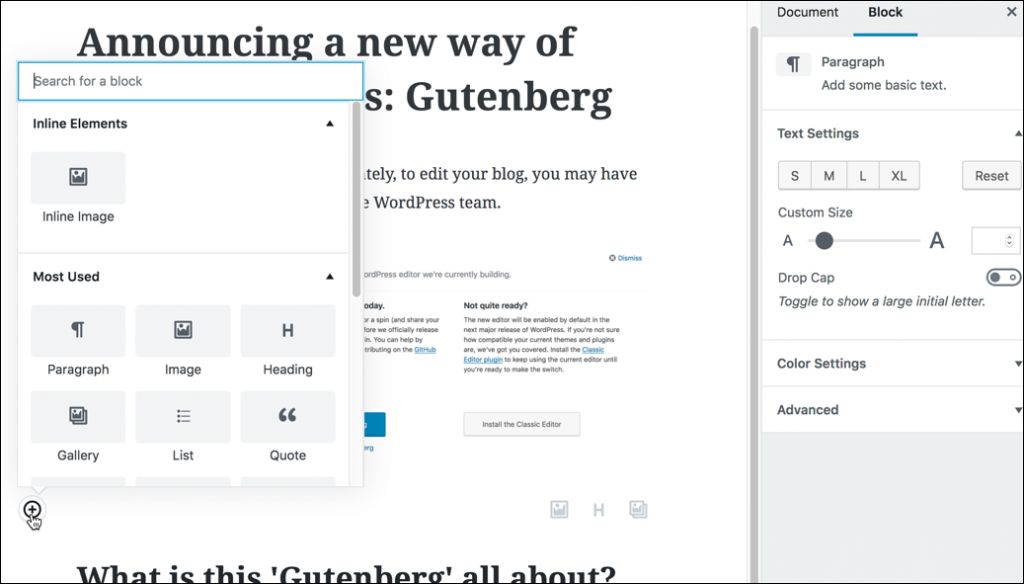 ---
How does this impact my blog?
Existing posts and pages
Your existing content should not appear to change to your visitors.
The new Gutenberg editor will not change the contents of your blog unless you edit and/or update a post or page. At that point, however, the content will be brought into the new editor and there may be some modifications.
Recommended: when editing an older post or page, give yourself some extra time to carefully review the new version of the page and troubleshoot any unexpected changes.
New posts and pages
There is a bit of a learning curve with Gutenberg – especially for those who have never used a block-based editor before. That said, it is pretty easy to start writing simple text-based content and adding images.
Recommended: take some time to try authoring a new post using Gutenberg. Try the various blocks, and the tools to customize and rearrange blocks. You'll get the hang of it!
What if I'm not ready to switch?
This change is happening in the middle of a semester, and it can be challenging to manage new features, like Gutenberg, when everyone is rushing to submit their blog assignments on time.
Blog Administrators that don't want to switch to the Gutenberg editor right away can activate the "Classic Editor" plugin.
*Please note that this is intended as a temporary measure, to provide users additional time to get used to the new Gutenberg editor. The Classic Editor will not be available indefinitely.
For information on activating plugins, please see our page on Plugins.
---
Known issues
Please refer to our Known Issues document for any issues that relate to the new 'Gutenberg' block editor.
Recent posts related to 'Gutenberg'